SRIRACHA
Underwood Ranches Sriracha is made with Red Jalapeños only grown by us in the USA, Fresh Garlic, Vinegar, Sugar and Salt. We use NO Artificial Preservatives, our Sriracha delivers a sweet heat with a little tanginess that will keep you coming back for more. Use it on any protein, hot dogs, Pizza, stir frys, sushi or simply as an ingredient on any dish you would like to add a little heat to.
Underwood Ranches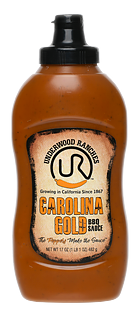 CAROLINA GOLD BBQ SAUCE
East meets West, South Carolina mustard based BBQ Sauce infused with Underwood Ranches Red Jalapeños. Excellent on pulled pork, hot dogs, French fries, chicken strips and a great binder for any of your pork cuts paired with Trim Tabbs Pig Powder finished with our Spicy BBQ and you have a serious winning combo!!
Underwood Ranches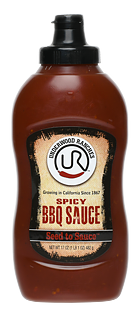 RED JALAPENO BBQ SAUCE
One of a kind truly unique Spicy BBQ Sauce, made with no tomato products, simply the red jalapeños we grow. Great for any proteins use for a finishing sauce on your favorite BBQ, as a dip, pizza sauce for an amazing BBQ pizza, or use to make great chicken wings. No artificial preservatives, not loaded with cheap tomato products, very clean Red Jalapeño BBQ Sauce.
Underwood Ranches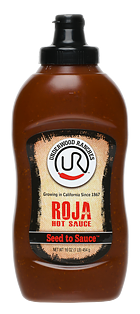 ROJA HOT SAUCE
Smoky mix of our very special hybrid variety Jalapeño with a blend of spices and a hot kick making this our spiciest sauce. Use Roja to liven up any Mexican dish, seafood, pizza and great on any protein.
Underwood Ranches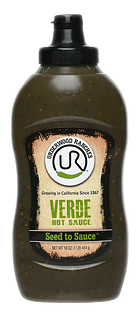 VERDE HOT SAUCE
Roasted green jalapeños with a subtle mix of spices and lemon juice. Pairs well with all Mexican food, eggs, seafood and for dipping chips.
Underwood Ranches
BIBIMBAP
Fusion of our Red Jalapenos and Korean Gochujang fermented pepper paste blended with fresh ginger, garlic, and sesame oil, spicy but not overwhelming. This sauce compliments any dish, makes very well as a marinade for chicken, shrimp or any type of fish, try it as a sandwich spread or add it to your favorite wing sauce for a new experience.
Underwood Ranches